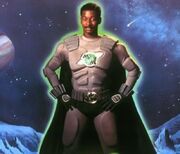 The
Meteor Man
 (Jefferson Reed) is a superhero who appeared in the 1993 comedy film
The Meteor Man
.
Robert Townsend played Meteor Man.
When mild-mannered school teacher Jefferson Reed was hit by a strange meteorite from space only to find himself with a multitude of strange super powers he uses to help his community.
Biography
Edit
Jefferson Reed was raised by his mother and father Ted and Maxine.  He grew up to become a school teacher in Washington, D.C.  In the neighborhood he lived in, people where terrorized by a street gang known as the Golden Lords, lead by a man named Simon Caine.
Ad blocker interference detected!
Wikia is a free-to-use site that makes money from advertising. We have a modified experience for viewers using ad blockers

Wikia is not accessible if you've made further modifications. Remove the custom ad blocker rule(s) and the page will load as expected.