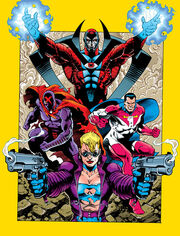 This is a list of characters who appeared in Dark Horse published works.  It should be noted that some of these are no longer published by Dark Horse.  Many and most of these characters are not part of the same shared universe.
Notes
(reprinted from material originally published by another company)
+  (part of the Dark Horse Universe)
- Astro Boy *
- Barb Wire +
- Black Belt +
- Blackout +
- Breaker +
- Cutter +
- De-Mo *
- Ghost +
- Hellboy
- The Mask
Ad blocker interference detected!
Wikia is a free-to-use site that makes money from advertising. We have a modified experience for viewers using ad blockers

Wikia is not accessible if you've made further modifications. Remove the custom ad blocker rule(s) and the page will load as expected.