Leatherhead

Real Name

Leatherhead

First Appearance

Teenage Mutant Ninja Turtles (Vol. 1) #6 (August, 1987)

Creators

Kevin Eastman, Peter Laird

Team Affliations

None

Aliases

None

Base of Operations

New York City

Powers

Super Strength

Skills and Abilities

Fighting Experience

Tools and Weapons

None
 Leatherhead is a villain and enemy of the Teenage Mutant Ninja Turtles.
Mutated by the company TCRI, Leatherhead was once a mere alligator who was transformed into an intelligent hominid who is not evil, but wild and savage.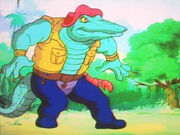 Ad blocker interference detected!
Wikia is a free-to-use site that makes money from advertising. We have a modified experience for viewers using ad blockers

Wikia is not accessible if you've made further modifications. Remove the custom ad blocker rule(s) and the page will load as expected.