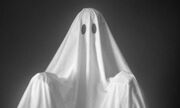 "Ghost" may be referring to two or more different characters. If you're uncertain which one you're looking for.
If you came here from a link, please go back and make the right link for one of the characters listed below.
---

The Ghost is the name of multiple heroes in superhero fiction.
Dark Horse
Edit
- The Ghost is a superheroine in the Dark Horse Universe.
Nedor Comics
Edit
- The Ghost is a public domain superhero who first appeared in Nedor Comics.
Marvel Comics
Edit
- The
Ghost
is a supervillain who appeared in the
Marvel Universe
and was primarily an enemy of
Iron Man
.