The Foot Soldiers

First Appearance

Foot Soldiers (Vol. 1) #1 (January, 1996)

Creator

Jim Krueger

HQ

Post-Apocalyptic Future

Members

Johnny Stomp, The Second Story Kid, Rags Murphy

Rallying Cry

None

Vehicles and Gadgets

None

Team Alias

None
The Foot Soldiers are a superhero team fighting a tolitatarian society from the superhero comic The Foot Soldiers.
After an evil villain has conquered the world and killed all the superheroes, a young boy named Johnny Stomp created team using the tools and weapons of the fallen heroes to fight against tyranny.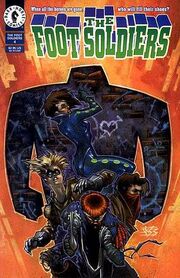 Ad blocker interference detected!
Wikia is a free-to-use site that makes money from advertising. We have a modified experience for viewers using ad blockers

Wikia is not accessible if you've made further modifications. Remove the custom ad blocker rule(s) and the page will load as expected.