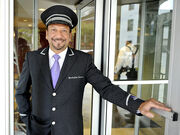 Doorman
is the name of several characters in superhero fiction.
Marvel Comics
Edit
- Doorman is a superhero in the Marvel Universe and is a member of the Great Lakes Avengers.
- Doorman is a minor superhero who appears in the comic book series The Tick, as well as the animated adaptation.