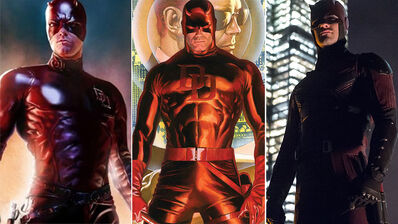 The Marvel Comics superhero
Daredevil
has appeared in a number of different media.  The character originally appeared in his own comic book series and in the Marvel Universe as a whole before making appearances in a variety of other media.
- Daredevil appears as the central character in a short story in the anthology The Marvel Superheroes, released in 1979.
- Daredevil is the protagonist of the Daredevil film, released in 2003.  Since he was a boy, he was raised by his father, a boxer, who worked hard to support his son and teach him good values.
Ad blocker interference detected!
Wikia is a free-to-use site that makes money from advertising. We have a modified experience for viewers using ad blockers

Wikia is not accessible if you've made further modifications. Remove the custom ad blocker rule(s) and the page will load as expected.