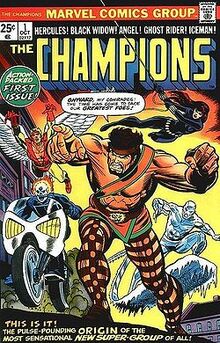 The Champions
 are a team of superheroes appears in the
Marvel Universe
. The team first appears in
The Champions
 #1 (October 1975) and was created by writer Tony Isabella and artist Don Heck.
Publication information
Publisher
Marvel Comics
Schedule
Bimonthly
Format
Ongoing series
Genre
Publication date
October 1975 - January 1978
Number of issues
17
Main character(s)
Angel; Black Widow; Darkstar;Ghost Rider; Hercules; Iceman
Ad blocker interference detected!
Wikia is a free-to-use site that makes money from advertising. We have a modified experience for viewers using ad blockers

Wikia is not accessible if you've made further modifications. Remove the custom ad blocker rule(s) and the page will load as expected.