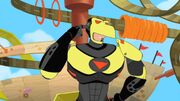 The Beak

Real Name

Phineas and Ferb Flynn-Fletcher

First Appearance

Phineas and Ferb, "The Beak"

Creators

Dan Povenmire, Jeff "Swampy" Marsh

Team Affliations

None

Aliases

None

Base of Operations

Danville

Powers

None

Skills and Abilities

Ingenuity

Paraphenalia

Supersuit
Beak is a superhero identity that boys Phineas and Ferb Flynn-Fletcher take on in the animated TV series Phineas and Ferb.
Ad blocker interference detected!
Wikia is a free-to-use site that makes money from advertising. We have a modified experience for viewers using ad blockers

Wikia is not accessible if you've made further modifications. Remove the custom ad blocker rule(s) and the page will load as expected.