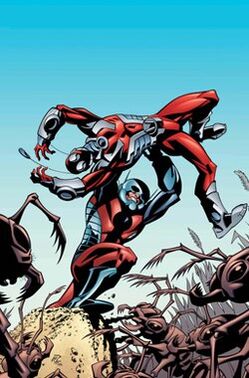 This is a disambiguation page for the various character who have taken on the role of Ant-Man in the
Marvel Universe
.
Henry Pym, the original Ant-Man (who had many other identities).
Scott Lang , the second Ant-Man.
Eric O'Grady, the third "irredeemable" Ant-Man.
Chris McCarthy, a S.H.I.E.L.D. agent who had a very brief tenure as Ant-Man before dying.
Mitch McCarthy was a S.H.I.E.L.D. agent who tried to take on the Ant-Man identity from Eric O'Grady before being arrested.
Ant-Man is a superhero in the Ultimate Marvel Universe and is based on the Hank Pym character from the Marvel Universe.
Ad blocker interference detected!
Wikia is a free-to-use site that makes money from advertising. We have a modified experience for viewers using ad blockers

Wikia is not accessible if you've made further modifications. Remove the custom ad blocker rule(s) and the page will load as expected.